What is an SL&TP calculator?
TradeLocker's SL&TP calculator is designed to streamline your trading experience, giving you increased flexibility and precision in setting your Stop Loss (SL) and Take Profit (TP) values.
The SL&TP calculator introduces a range of new features that enable traders to have better control over their trades and improve their trading outcomes.
This guide breaks down how to use the latest features of the calculator to automate your SL&TP and maximize your trading potential.
How to use the SL&TP calculator?
Step 1: Select the desired instrument pair.
Choose one of 500+ tradable assets available on TradeLocker.
Step 2: Specify the order amount
Here is how you can specify your order amount:
Order amount in lots
This method lets you set the order size in terms of lots.
For example, selecting 0.01 lots means you're trading 0.01 units of the instrument pair.
Note: Trade size input options are coming very soon. This will allow you to specify your order amount in various ways.
Step 3: Set your SL&TP values
Click on the arrow in the right corner of the panel to open the whole SL&TP calculator.
With the new panel, you can now set Stop Loss and Take Profit values in various formats. Here's how to do it:
1. Setting SL&TP in $
Directly input your targeted profit and loss for the position in terms of your currency value.
For instance, if you want to take profit at $50 and stop loss at $20, input these values directly.
2. Setting SL&TP in relative ticks value
Input the relative market movement from the opening market price.
This eliminates the need to bother with the absolute market price.
For example, setting a 10-ticks SL means the position will close if the price moves 10 ticks against your trade.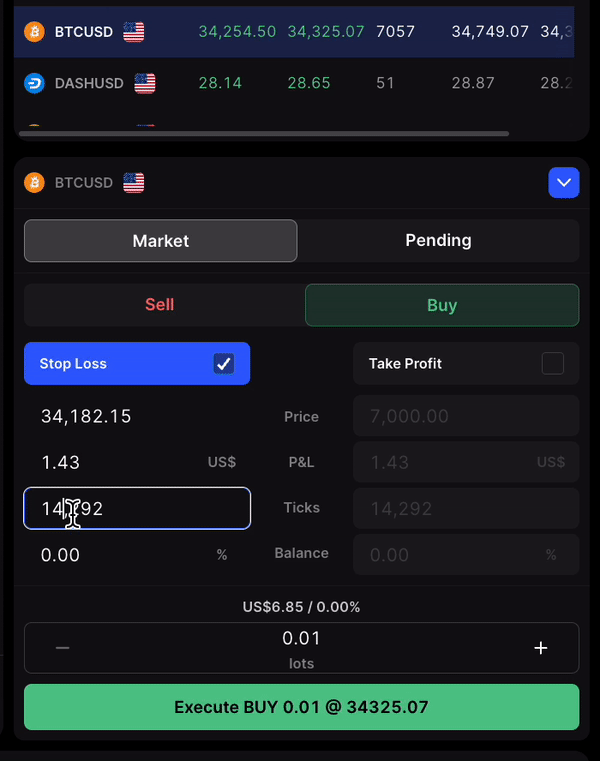 3. Setting SL&TP in % of the account balance
What percent of your current account balance are you willing to risk? You decide.
Input the percentage of your current account balance you'd like to set as your SL or TP.
For example, If your account balance is $10,000 and you set a 1% SL, your trade will close if you lose $100.
4. Setting SL&TP in the absolute market price
This is the traditional method and allows you to set SL & TP values based on a specific market price. Some things never go out of style.
Step 4: Visualize and adjust on the chart
Before confirming your trade, preview how your selected SL&TP settings look directly on the chart and make any necessary adjustments. This feature ensures you're comfortable with potential profit and loss zones before committing.
Step 5: Execute your trade
Once satisfied with all the settings and visual placements, click on the Buy or Sell button to execute your trade.
Keep monitoring your trade and use the calculator for any further adjustments as needed.
The SL&TP calculator helps you visualise your trading decisions in more than one way.
Whether you're thinking in dollars, small market moves, or a chunk of your savings, we've got you covered. No need for fancy math, just tap and decide.
Help us build the perfect trading platform that prioritizes your needs and preferences. Join our Discord community to meet the TradeLocker team and other traders, discuss upcoming features, and chat with us directly.